We have already opined on pet blogs, pet owners who blog and pet owners who really believe their pets also blog.
Changing kitty litter or getting your mangy dog to crap outside does not in any way constitute brilliance on your part or brilliance on the part of your pet. It is not the equivalent of teaching your child to look both ways before crossing the street. That's right, we said it. Your animal is not an equivalent to a child. OK, so we've managed to offend a few of you that really do believe an animal-human relationship is the equivalent to a human-human relationship. That said, if you indeed believe that, you're an idiot.

Writing a blog in a cat/dog/hamster/fish voice is entertaining only to yourself and that small galaxy of morons who feel the need to do the same.

If the rest of us don't really care about what you have to say in your personal blog (trust us here, we don't. Having a second blog written by/about a pet is a fair indicator of that), why on earth would you think we care about the imaginary conversations you have with Fluffy or Spot? If we don't think your child learning to crap into into a porcelain bowl is riveting Pulitzer Prize material, it is a safe bet that reading about your feelings on a certain brand of kitty litter or your pet's favorite made-in-China toy will not be adapted into a major motion picture screenplay.

If we have the uncontrollable urge to read about skeins of wool, there are knitting blogs aplenty that can calm that jonesing need, without seeing little itty bitty kittens frolicking, entagled in that skein of wool, trapped in paper bag or playing with tinsel. Those activities are not unique to your pet.
Now, these are the reasons dogs bite their owners;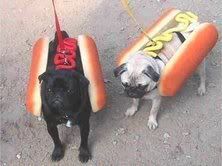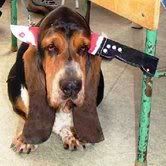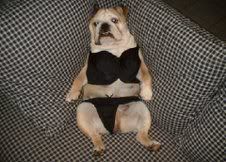 Sigmund, Carl and Alfred have been asked on more than one occasion if we and other members of the Sanity Squad were the possessors of formal titles, or if we were listed in Burke's Peerage. Of course, we are.
How that came to be might be of more than passing interest.
HRH Elizabeth II and Prince Philip, Duke of Edinburgh, have been loyal and dedicated readers of the Carnival Of The Insanities. They discovered COTI last year, as a result of a link found on this favorite site, after a bit of Sunday tea time web surfing. Ever since, the House of Windsor gave been great fans and supporters of Dr Sanity and The Carnival Of The Insanities. Dr Sanity has been a oft requested guest at the weekly meetings at Buckingham Palace with the British Prime Minister. She has been consulted by the Queen and her advisers on numerous occasions (usually, when SC&A are otherwise engaged with Isabella Rossellini), to advise on matters that concern the nation or the Royal household.
As a result of her efforts on behalf of the United Kingdom (and wearing the Queen down by constantly asking for her autograph on various items purchased at Target, and the Sanity Squad was recently awarded the Order of the British Empire (OBE) for beating 15 minutes of sense into Prince Charles, a new record.
Below are the titles and heraldic shield that was ordered and commissioned by the Her Majesty, Queen Elizabeth II, awarded to the Sanity Squad.
Alfred's Peculiar Aristocratic Title is:
His Grace Lord Alfred the Inappropriate of Praze-an-Beeble

Carl's Peculiar Aristocratic Title is:
Prince Carl the Magnificent of Llanfairpwllgwyngyllgogerychwyrndrobwllllantysiliogogogoch
Sigmund's Peculiar Aristocratic Title is:
His Most Serene Highness Lord Sigmund the Erudite and Evanescent of Much Madness upon Avon
Neo-necon's Peculiar Aristocratic Title is:
Milady the Right Reverend Neo the Precocious of Fishkill St Wednesday
Dr Sanity's Peculiar Aristocratic Title is
Her Exalted Highness Duchess Patricia the Ceaseless of Biggleswade by Biscuit

Shrinkwrapped's Peculiar Aristocratic Title is:
The Right Reverend Shrinkwrapped of the Ever Running Waters and Strange of Nether Wombleshire
As noted HRH Elizabeth II awarded the Sanity Squad our own Herald and titles. The ceremony and subsequent dinner was held at the Tower of London Golden Corral Buffet
(Her Majesty enjoyed, fried okra, hush puppies, lip smackin' ribs, fried chicken, mashed potatoes, buttered noodles, chicken and pastry noodles, country fried steak, chicken fried steak, build your own burrito, meat loaf, macaroni and cheese, pizza, pudding, breaded shrimp, catfish nuggets, collard green, corn on the cob, creamed corn, green beans, wax beans, yellow beans, cabbage, BBQ beans, and turnip greens, potato salad macaroni salad, sliced yellow peaches in heavy syrup and almost a dozen yeast fresh from the oven)
For dessert, the Royal entourage indulged only in the sugar free offerings of Blueberry Pie, Cheesecake, Chocolate Chocolate Chip Cookies, Oatmeal Bar Red Gelatin Sugar Free Strawberry Cake, Vanilla Cake.
The entertainment portion of the program got underway with Neo performing a selection from Stravinsky's Rite of Spring ballet. She performed in her signature in her signature rose tutu, with green apple tassels.
Shrinkwrapped in charge security was at his PC best, not laying a hand on anyone as he frisked them for weapons and other contraband on their arrival and once again, as he frisked them for hidden dinner rolls and pastry as they left.
SC&A served as the Royal food testers. Naturally, we took our assignment seriously took our seriously. We got down to work and began eating a day half early.
Dr Sanity held HRH and the Royal gathering spellbound with a three hour lecture on waste elimination in space. Her Majesty was so overwhelmed her eyes glazed over and she lapsed in a coma like trance.
Yet another success for Dr Sanity.