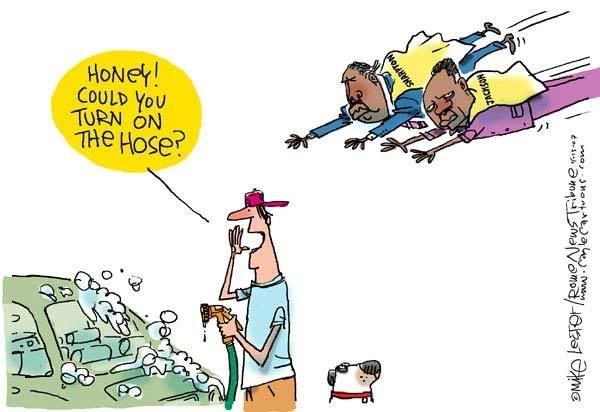 This is the 2nd day of the Sharpton-Jackson watch.

We're waiting to see how fast Al Sharpton and Jesse Jackson will demand the cancellation of recording contracts and removal from the public stage of the most foul mouthed, racist and bigoted rap artists. Reverends Sharpton and Jackson, we're waiting.
If any of out readers can come up with an appropriate graphic for the Sharpton-Jackson watch, we would be most grateful.
Today's Lyrical selections for Al and Jesse to consider:
Chorus: Soulja Slim]
Slow motion for me, slow motion for me, move it slow motion for me
Slow motion for me, slow motion for me, move it slow motion for me
Uh I like it like that she working that back I don't know how to act
Slow motion for me, slow motion for me, slow motion for me
Move it slow motion for me
Uh I like it like that she working that back I don't know how to act
Slow motion for me, slow motion for me, slow motion for me
Move it slow motion for me
[Verse 1: Soulja Slim]
I'm a dick thrower
Her neck and her back hurting
Cut throat I'll have you like a brand new virgin
It's like when she get used to it then you start serving
Hop up on top and start jiggy-jiggy-jiggy- jerking
Slow down for me you moving to fast
My fingers keep slipping I'm trying to grip that ass
Keep being hard headed and Ima make you get off me
Got human up the skies but my face is a doggy
If you loving my bark let me bury my bone
I got 4 or 5 bad merry bitches at home
One of my bitches feel in love with that outside dick
that outside dick keep them hoes sick
[Chorus]
[Verse 2: Juvenile]
I'ts like I got the world in my palms
Your girl up under my arms
She fucked up from the charm
She love the way the dick stay hard from 12 till early in the morn
Fine bitches if you listening you heard me I'm strong
If you going threw your cycle I ain't with It I'm gone
You must have heard about them hoes that I beat up in my home
They wasn't telling the truth baby you know they was wrong
Na make it official wheres some of that don
I don't mind buying to, your riding to
Don't be asking nigga questions about where I'm driving you
Lil mama my shit together I ain't jiving you
I don't think that nigga could do you better then I could do ya know
And juvenile from courtless street by derby
Same nigga that used to be running with rusty and kirby
Can a playa from the n.o.ya get a chance with it
But I can't bounce with you without using my hands with it
[Chorus: Soulja Slim]
Uh I like it like that she working that back I don't know how to act
Slow motion for me, slow motion for me, slow motion for me
move it slow motion for me
Uh I like it like that she working that back I don't know how to act
Slow motion for me, slow motion for me, slow motion for me
move it slow motion for me
[Verse 3: Soulja Slim]
Slow motion, she open, I'm hoping that she don't leave my dick broken
With brush, burns and swollen
I'm toting she wanted me to make a outer believer
I gurantee ya ima see ya when I see ya
And just don't holla out my name like we was all that
Your pussy throw back and you know that
So stop stunting slow motion for a real nigga
I'm going off that incredible potion and imma deal with ya
[Juvenile]
I like how that victoria secret sit in that ass
Let me pour some more hip and hennsey in your glass
Would I be violating if I grab me a handful
Im knowing what's happening all I want is a sample
Who you wit I'm in the rental today
It's going down and happening and I remember the way
Less money we spend on bullshit the more for the weed
What's it gonna take for you to come slow motion with me
[Chorus 3X: Soulja Slim]
Uh I like it like that she working that back I don't know how to act
Slow motion for me, slow motion for me, slow motion for me
move it slow motion for me
Uh I like it like that she working that back I don't know how to act
Slow motion for me, slow motion for me, slow motion for me
move it slow motion for me
Dymphna and the Baron have posted a fascinating two part series entitled, Is European Civil War Inevitable By 2025?
Written by Paul Weston, the posts are a fascinating look and analysis at the 'state of the union' that is the European Union. While not everyone is bound to be in agreement with the author's conclusion, everyone will be provoked and stimulated by the ideas and issues he raises.
If I were to tell you that within twenty years Europe could find itself engaged in a civil war so bloody it made WWII look like a bun fight, you might logically consider me a candidate for the men in white coats. You would be wrong, however. Based on the demographic evidence collated for this article, such a scenario looks not merely possible, but inevitable. In 2005 European males aged 20-40 outnumbered Muslim males of a similar age by 18:1. By 2025 this ratio could drop to a mere 2:1.
The first part of the series looks at the Muslim demographic data and tsunami that has already engulfed Europe. For example, Weston presents raw demographic data. He does not- and cannot factor in assimilation, change in attitudes, etc., but in his defense, he does not make that attempt. Like a forensic accountant, he just follows the demographic 'money.' While the numbers don't tell the whole story, as is most often the case, those numbers are startling indeed- as are the implications.
The second part of the series, posted yesterday, is more disturbing. The European propensity for 'diversity,' the result of the European backlash in the postwar era against discrimination of any kind, has morphed from appropriate tolerance and respect to universal acceptance and endorsement.
That reality is perceived very differently by many in the Muslim community- by design.
Europeans have been conditioned from an early age to celebrate diversity and multiculturalism, resulting in our genuine ability to co-exist with peoples of significantly different cultures. But, rather than what we want, is this what Islam wants? Islam is as mono-cultural as mono-cultural gets. How can they possibly live in a liberal, multicultural society?
While we don't necessarily agree that "Islam is as mono-cultural as mono-cultural gets," we do understand the points raised. Muslim communities have no tradition of diversity- those who worship or believe differently, are heretics- as defined by the religious authority du jour.
…there are now some 2,000 Mosques in Western Europe, many of them funded directly by Saudi Arabia to the tune of 90 billion dollars [emp-SC&A]. In these mosques are Imams — trained or imported from Saudi Arabia — preaching extreme Wahhabism. They call for the overthrow of the West, and promote suicide bombing and martyrdom. Channel Four recently sent an undercover reporter into various Mosques in the UK. The result was an exposure of these Imams in their call for Holy War against the West…

In British schools the Holocaust is no longer taught because it runs counter to the Holocaust denial beliefs of Muslims… Our teaching unions are also of the opinion that the idea of teaching British values is racist
Is the sun setting for the last time on the British Empire? Is Europe once more in darkness?
No one has a crystal ball, of course, but we had best be considering what the future holds- and what, if anything, needs to be done about it.
The heavily self esteemed and pious Glenn Greenwald notes:
I feel — in this vaguely intuitive sort of way — as though there is some kind of a pattern buried within this set of facts, but as much as I search, I just can't quite figure out what it might be:……

The administration — which has made its contempt for all forms of oversight as clear as can be, and which has engaged in every possible effort to block scrutiny of its conduct — obviously simply decided that, despite all of these controversies, and despite their legal obligations, they would keep ensuring that highly relevant e-mails continued to disappear, or would simply break the law by using e-mail systems that did not preserve their communications, including communications relating to ongoing investigations. What other reasonable conclusion is possible in light of these facts?
No word from the guy who redefined hypocrisy into an admirable attribute about his 'intuition' as they relate to other, more well documented 'patterns of behavior.'
There were 900 plus FBI files of political 'enemies' found in Hillary Clinton's library. Bill Clinton authorizes Sandy Berger to visit the National Archives and sure enough, documents go missing. The Clinton's documented use of private investigators to intimidate, harass and threaten political enemies and the reality that the Clinton Administration was one of the most corrupt and deceitful in history, has also escaped Greenwald's moral 'intuition' meter.
No matter how hard Greenwald tries, he can't drag this Administration down to become as criminal or morally equal to the one that preceded it- and that is what this is all about, because in the end, the Bush Administration will inevitably be compared to the Clinton Administration. 'Nuff said.
Greenwald would be more credible as a Tarot Card reader.
Blandly Urbane has a couple of posts worth a read. The Smoking Gun post is excellent. He begins by stating an obvious truth:
We armchair "intelligence analysts" and "political pundits" see what we want to see when it comes to defending our points of view. I am guilty of it as many others are as well. Try as we may, one is not always successful in avoiding this; while many do not bother trying at all.
There is no way to excerpt the post fairly. It has to be read whole and in context. There is a sublime and Anchoress-like sensibility (her calm, reasonable take on the Imus histrionic passion play is the best you'll read, anywhere) in his view as he takes a step back from the cacophony that is so prevalent and that has become the hallmark of political milieu.
In Repeat A Lie Long Enough, Blandly Urbane casts a critical eye on that irrelevant media darling, Joe Biden, who has taken it upon himself to be a foil to John McCain:
While acknowledging (diplomatically) McCain's argument regarding the consequences of failure in Iraq, but to stick with a "failing policy" is a "mistake." Senator Biden sees this as lacking reality and that really, "the problem is that for every welcome development, there is an equally or even more unwelcome development that gives lie to the claim that we are making progress."

…The problem I see with Mr. Biden's logic is that with every action in LIFE, there is an "equally" welcome or unwelcome development to follow; oftentimes not in a singular fashion…

This is where a sense of necessity and perseverance comes into play in the Iraq Theater of the war on terror. Mr. Biden, as well as most Democrat politicians, chooses to see the one side of the situation in Iraq, decide it is a failure and then choose to do everything within their power to make it so. This is not just an example of an "equally or even more unwelcome development." It is an outright attempt at willingly thwarting an action or operation to arrive at an advantageous political situation; that they hope to use in resting power in government. This "game plan" they have chosen will also have its likely own "equally or even more unwelcome development;" a development that they have thus far chosen to ignore in their call for a "new direction."
Clarity is a wonderful thing, don't you agree?
In examining the Nancy Pelosi-Tom Lantos Middle East Road Show, Dr Sanity looks at the two kinds of selflessness- the kind that originates from humility and the other kind, that originates from hubris and self aggrandizement.
In Selfless Narcissism, The Political Left And The Betrayal Of The Good, she clearly defines and differentiates the selflessness that elevates man from the selflessness that is toxic and destructive. By way of example, Dr Sanity uses a classic scene scene from the film, The Bridge on the River Kwai, to illustrate her point.
Colonel Nicholson becomes so narcissistically invested in the Bridge and his role in creating the structure, that he loses all perspective of the larger picture and ends up betraying his country and the very values he believed he was supporting by working with his captors. The moment when he suddenly realizes that his commitment to an abstract ideal has led him and his fellow POWs down the path of betrayal is the climax of the movie…

There are two kinds of "selflessness". One derives from the humility and insight that comes when both the grandiose and idealistic sides of the self work together. This psychological synthesis leads to true benevolence and is psychologically healthy for both the individual and the society in which they live. And then there is the kind of narcissistic and self-serving "selflessness" we see regularly displayed by the thoughtless, irresponsible, and destructively pandering Democrats (and many Republicans for that matter–what ties them together is that they act only out selfish interest, but despicably disguise it as selfless); as well as most of the morally righteous, posturing members of the political left; whose self-aggrandizing antiwar antics only lead to prolonging war and increasing the number of deaths as their own fanatacism serves to inspire and encourage the fanatical jihadists. Those jihadists must be rolling on the floor laughing, as they prepare their next suicide attack against the troops.

Pelosi trots out Tom Lantos as her "moral authority" because he happens to be a Holocaust survivor. Indeed, the Holocaust is a good moral lesson to learn from, particularly since the very people that Pelosi et. al. want to negotiate and have tea with are actively planning the next big one. But, like Pelosi, Lantos' supposed 'selflessness' in this matter is self-serving and driven by his own hubris.

If you want to tap into some real moral authority regarding the Holocaust, then you should look to someone like Elie Wiesel who truly speaks for the dead of WWII's Holocaust. When he is asked, if he can personally forgive those who perpetrated the Holocaust:
"It depends. If it were an individual person, of course I could. One person coming up. But for the whole . . . Who am I to forgive?
Later, when talking about the jihadists, he notes:
Fanaticism in the name of God is a real problem now, with the jihadists . . . Those people who kill for God make God into their accomplice, an accomplice to murder."
It is very easy to get caught up in the narcissism and selflessness of the toxic kind. That said, it is unlikely that Pelosi and Lantos will have that 'Aha!' moment and come to their senses. Their destiny, it would seem, is to serve as a Chamberlain-esque example of the road to hell, paved with good, if stupid and naive, intentions. Like Chamberlain, they too will be regarded as failures, politicians with no sensibilities or grasp of reality.
UPDATE:
Just a few more thoughts. As Krauthamer today notes, the war in Iraq didn't preclude Joe Lieberman from getting elected in Connecticut,  one of the most liberal states in the union. In fact, there is a very good argument to made that the Jane Hamsher and Christy Hardin hysteria (and histrionics) ensured Lieberman's victory, and made sure Ned Lamont paid for it. The people of Connecticut weren't quite ready to make their state election a referendum on the war in Iraq. So much for the 'analysts' at Firedog Puddle.
In fact, almost no Democrats  in the last election ran on exiting Iraq by a date certain. The very clearly made that very clear. Even they understood that their constituents could only be conned so many times.