The Wednesday Weekly Whacky Award Goes To
May 9, 2007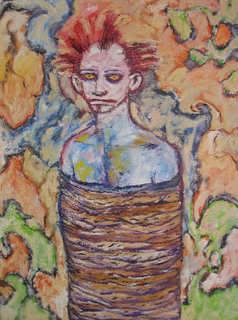 The SC&A Academy of Extremely Peculiar Pathologies, is pleased to announce this week's winners of the Weekly Wednesday Whackjob Awards, commonly referred to as the 'Whacky's.'
First, some fine print: nominations will open each week until 10:00 PM, EST (After the broadcast of House, M.D.).
That's it for the fine print.
The directors of the SC&A Institute are pleased to announce this week's winners of the Whacky Awards, given to those who are outstanding examples of dysfunction, stupidity, bizarre, and the politically inept are particularly iconic.

This week's show is being broadcast from the research labs at Crazy Meds, world leaders in first hand insight and the play by play of psychiatric meds.
A 'Whacky' has been been awarded this week in each of the following categories:
The Thorazine Shuffle and Dance Award, presented each week to the politician who dances and shuffles without actually addressing reality or answering a question, is awarded to Segolene Royal, the French Socialist presidential candidate. As it became more and more evident that she was leading the French Party of Failure to their first real election loss in over 40 years, Ms Royal, in desperation, told her fellow Frenchmen that they needed to vote for her, because is they did not, there would be violence.
"Choosing Nicolas Sarkozy would be a dangerous choice," Royal told RTL radio.

"It is my responsibility today to alert people to the risk of (his) candidature with regards to the violence and brutality that would be unleashed in the country (if he won)," she said.

Pressed on whether there would be actual violence, Royal said: "I think so, I think so," referring specifically to France's volatile suburbs hit by widespread rioting in 2005.
Leftist Royal's remarks were the equivalent of the Ku Klux Klan asking for support and threatening violence if that support was not forthcoming.
Support us or there just might be a few lynchings.
In the surreal world of leftism, that is a perfectly reasonable request.
This week's Thomas Szasz Psychotherapy Award, presented each week to the biggest idiot therapists we can find, goes to Radio La Colifata FM 100.1
The first radio station to transmit from a psychiatric hospital!" an announcer shouts into a microphone at Buenos Aires' Jose Borda Neuropsychiatric Hospital…

Radio La Colifata – whose name derives from Argentine slang for "colifa" or "crazy one" – began 15 years ago to help patients communicate with their peers, to carry their voices beyond the hospital walls and to break down public misconceptions and prejudices about the mentally ill.

On a recent Saturday, dozens of patients wandered the grassy compound of drab buildings. Some mumbled and one shouted angrily. Some were disheveled and bandaged, others chain-smoked..

The program is an eclectic mix and includes interviews, music, poetry and storytelling. The level of discourse on current events sometimes shows a logic and civility often absent from commercial radio shows.

One outpatient, Julio, spent a year in the hospital and said the program keeps him sane.
Uh huh. As if there aren't enough mental patients that hear voices. Now, they can tune in to insane voices. The station also hosts PSA's by politicians.
The Valium Award, is usually presented to the dullard of the week. Of course, 'dullard' is relative. For example, men and women often are at loggerheads as to what is and isn't dull. This week's winner is sure to reignite that controversy.
A new adult entertainment website could be termed aural sex – because it is tailor-made for blind people.

The X-rated site features erotic stories read out by scantily-clad women. Users can also listen to graphic descriptions of saucy photos.

For those who are not blind but are visually-impaired, a 'zoom' button lets them get up close and personal to the images. The site even provides subtitles on adult movies for deaf subscribers.

SoundsDirty.com is the brainchild of British-based web designer and Internet guru Lloyd Chambers.
No porn pictures? Most men think the idea of no pic porn is dull. Lots of women think it's brilliant.
The Trojan Award is presented each week to the person or persons we wish had never been born. This week's winner is graduate art student Jessica May, 24, of West Lafayette, Ind.
For the past several weeks, drivers near Southern Illinois University-Edwardsville have been noticing odd things about some of the roadkill on the sides of the area's highways.

Some of the dead possums and raccoons have been dressed in pet or human baby clothes and have had their claws painted with nail polish. The carcass of a deer has been adorned with gold paint…

"I think this is my way of slowing down and paying homage to these animals," she explained. "I don't particularly find it offensive, but I understand why some people who don't understand what I'm doing could find it that way."
Clearly, stamp collecting is losing appeal.
The NutriSystem "I'm Not So disgusting to My Spouse Anymore" Award, goes to the biggest loser of the week, a Brazilian gentleman named Breno, who put his wife up for sale on Ebay.
The government has ordered an Internet auction site to remove an advertisement in which a Brazilian man offered to sell his wife for the equivalent of about C$55…

…posted by a man who gave his name as Breno and said: "I sell my wife for reasons I prefer to keep short. . . . I really need the money."

He described his wife physically and listed her qualities as a homemaker and companion. He reportedly said she was 35 and "worth her weight in gold."
"Worth her weight in gold." Is this the kind of guy women dream of, or what?
The Haldol Honor, awarded each week to the person or persons most out of touch with reality, goes to the government of Pasco County, Florida.
A man with no arms and one leg escaped a police chase yesterday — again.

Authorities say the driver was Michael Francis Wiley, 40, who overcame three amputations, taught himself to drive with stumps and proceeded to become one of Pasco County's most accomplished traffic violators.

His license has been suspended so many times that driving itself has become a felony offence…

According to court records, Wiley has stolen a car, kicked a state trooper and attacked his wife headfirst. He is awaiting trial on separate drug and illegal-driving charges. He faces up to five years in prison.

Most Ford Explorers have automatic transmissions, though several people say Wiley is perfectly competent with a stick shift.

'He is one of the best drivers I've ever seen in my life,' said Lee Michie, a longtime acquaintance. 'But he's the worst person I've ever met.'
Is there a reason this one man Demolition Derby hasn't been locked up yet?
The Methamphetamine Medal, awarded each week to the most hyper, histrionic, hysterical, spaced out documented behavior goes to the Princeton Public Library, who are tripping all over themselves in joy as they present the Princeton Human Rights Film Festival, an ode to Cuban dictator Fidel Castro. That's right, 'Librarians for Castro.'

But back to the Princeton Human Rights Film Festival hosted by the Princeton Public Library: The same people who praise Castro's medics as "doctors" and play movies in their favor are the same people who refuse to support people who risk their lives by distributing books in Cuba.

Shameful, indeed.
While Pat and Faith rhapsodize about "small organic farms and urban gardens" and how "Cuba was undergoing a transition from a highly industrial society to a sustainable one", they ignore the fact that people are on starvation diets, unless they can grow some food because they're living on less than $20 a month. The minimum salary in Cuba is $10/month. (see also this post)

Retirees earn pensions of $7 per month.
Maria earns a pension equal to about $7 a month. But the monthly rations Cubans can buy in peso stores last about a week. Health care is free, but state-subsidized pharmacies sit bare.

If she can't find pills and food at pharmacies and peso stores, Maria must buy them in dollar stores or on the black market at higher prices.
Pat and Faith apparently don't realize that people trying to exist on slave rations must grow their own food out of need, not out of choice.
It seems the Princeton librarians can't stay away from peddling porn of any kind.
The Viagra Statuette, (male or female), goes to these Malaysian do gooders:
Malaysian customs officials plan to send more than 196,000 cans of smuggled beer gurgling down the drain after confiscating them from a gang that specialized in reselling duty-free drinks to pubs and grocers.

Officials cannot auction off the beer, worth about 287,000 ringgit ($84,040) with 1 million ringgit ($292,900) owed in unpaid duty and sales tax, because the sale would affect the domestic market, the Star newspaper said Tuesday.
Children the world over are told to finish their food because of starving children in places like China, India and Malaysia.
Well, there are millions of thirsty people the world over who would appreciate a nice cold and frosty beer. As the long hot summer season approaches, something to think about.
The ECT Battery Award, presented to the most shocking news story of the week, goes to the dog that needed a lawyer.
A man who didn't have a will left a $2 million estate, but the most hotly contested item in court has been his golden retriever, Alex.

The four-way dispute over the 13-year-old pet was so intense, an attorney was appointed to represent the dog's interest.
The judge decided the man's divorced parents should split custody..
It gets better.
"At first glance, the petition seems almost frivolous, but after speaking with all parties, it is evident that this is a highly emotional issue for all involved," said Alex's attorney, Paul Royal, in his report to the probate court.

In the consent order the judge approved, the elder Callan and his ex-wife, Esther Snow Gnall, will trade custody of Alex every two weeks.

The father has cats at home, though, so at night, the dog stayed with Callan Jr.'s former girlfriend, who had known Alex since he was a puppy.

The son's fiancee also was interested in Alex, and Gnall had said if she won custody, she would allow the fiancee to spend time with the dog.

Royal, the dog's attorney, said he believes all four people love Alex and would take good care of him, but they were using the fight for the dog to punish each other for past transgressions.

"This case is similar to a bitter custody battle involving children where each party loves the children, but the kids are stuck between two people who cannot coexist," the attorney said in his report.
The parties have agreed not to influence the final disposition of the case by bribing the dog with bacon, beef, chicken or by introducing Alex to a provocative bitch.
Finally, The HRT (Hormone Replacement Therapy) Prize awarded weekly to the loudest and most inconsequential feminist (type) drivel the SC&A jury can find, goes to 'egalia,' of Tennessee Guerilla Women, for her moronic post, Is Nathan Bedford Forrest of the KKK A Republican Hero?
In 2007, you can still find an actual Congressperson from the White Men Are Best Party who feels no shame about embellishing speeches with quaint little quotes from a Grand Wizard of the Ku Klux Klan.

I kid you not.

"Yesterday on the House floor, Rep. Ted Poe (R-TX) argued that the United States needs to immediately authorize funds for the war in Iraq. . . To make his case, he quoted "successful Confederate general" Nathan Bedford Forrest, but left out the fact that Forrest was also one of the original Grand Wizards of the Ku Klux Klan." [via]
Egalia's remarks are profoundly ignorant- and only serve to reinforce the 'Deliverance' image Tennesseans so desperately want to shed.
If this idiot were so concerned with the KKK, she might want to ask herself why she remains silent on the Senate seat held by DEMOCRAT Robert Byrd of West Virginia, who did a lot more than quote Forrest. Byrd was a Klan Kleagle, or recruiter for that fine organization. Byrd, who claims to have renounced the Klan, has on more than one occasion noted that 'the Klan wasn't so bad. They did lots of good things for people.'
For some reason, egalia and Tennessee Guerrilla Women can't seem to connect the dots- which can only lead anyone literate that they a) were unaware of the existence of Robert Byrd or b) they were being deliberately deceitful.
In either case, they can not be considered credible or informed.
No doubt Africa Americans share the same warm feelings for the Klan, Democrat Bull Conner and the rest of the sordid Democrat politicians of the 'New South' that have kept them disenfranchised for decades as do the Tennessee Guerrilla Women.
Tennessee Guerrilla Women- a fitting tribute to the south that once was and the south they want to preserve.
Now while we're on the topic of crazy, be sure to visit Dr Sanity's Carnival Of The Insanities for more bizarre, arcane, insane and incredible examples of what can be found in the whackosphere, blogosphere, MSM and NASA.