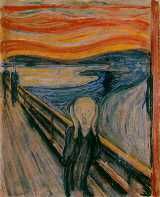 MHNN (Ann Arbor, MI)- Have you ever wondered what patients tell their psychiatrists? Have you ever wished you could listen in on a therapy session?
Dr Pat M Santy, internationally known psychiatrist and author of the weekly Carnival Of The Insanities, has provided MHNN an advance copy of her new book, "Weekly Sessions," in which she records some of what she has heard in her Ann Arbor experiences.
Dr Sanity notes that virtually all of the quotes she presents were made by patients prior to their starting on medication.
"Doc, I'm so glad the Edvard Munch painting "The Scream" has been recovered. Howard Dean can finally relax. He won't have to shoulder the burden alone."
"Doc, I was so pleased to hear The LA Times dropped the term "wild" describing fire and is using the term "undocumented" fire instead."
"Doc, have you heard? Robert Byrd will be appointed Grand Wizard pro tempore of the Senate!"
"Doc, John Kerry said something I've been thinking about: If you don't do well in school you'll get stuck fighting fires in California."
"Doc, I'm depressed. According to the NY Times: Fighting fire creates even more fires."
"Doc, Great news! San Andreas Fault in California has been renamed George Bush's Fault."
"Doc, what is this world coming to? Now the Dutch want to follow Ahmadinejad's lead. They just declared "there are no dykes in Holland!"
"Doc, have you seen the latest issue of People Magazine? Sean Penn and Rosie O'Donell were quoted as saying we are 'hated' on other planets."
"Doc, why is this administration lying to us? Iran and Syria have just declared a Hezbollah victory in the world series!"
"Doc, I know how to make a fortune! I'm going to sell Castro T-shirts as soon as he's dies!"
"Doc, Nicholas Sarkozy has his own problems. Just yesterday he was presented with an ultimatum that began with "France out of Paristan!"
"Doc, I have bad, bad news. Santa has been grounded! PETA filed an animal cruelty suit in Superior Court."
"Doc, JK Rowlings has dropped another bombshell! Dasher and Prancer came out of closet and are now advocates for legalizing same-sex marriage for reindeer."
"Doc, have you heard? Now Comet and Blitzen are refusing to serve with openly gay reindeer."
"Doc, a whole bunch of U of M college professors have resolved to vilify America, Israel, Jews and Christians twice as much as last year!"
"Doc, I have read a secret, internal ACLU report. Did you know that George Bush wiretapped Martin Luther King?"
"Doc, former DC Marion Berry wants to initiate a new holiday, "Crack History Month." Pretty cool, huh?"
"Doc, the ACLU has another internal, secret report that says Dick Cheney was seen on the Dealy Plaza grassy knoll."
"Doc, I had a horrible nightmare last night. I dreamed the NYT headline was 'Reparations Movement Takes Aim at Largest Corporation that Benefitted from Slavery: The Democratic Party, to Sue for 800 Billion Dollars."
"Doc, have you heard? California Democrats have proposed vote-by-phone voting."
"Doc, how are we going to spin this one? The North Pole has shut down as the elves unionize, demand warmer work environment."
"Doc, what are we doing in Iraq? Have you seen the latest NYT headlines?: U.S. botches strike in Iraq; Marine choppers fail to hit aspirin factory."
For more insight into reality, see Dr Sanity's Carnival Of The Insanities.
Some of these quotes were 'borrowed.' All are credited to wonderfully crazy people.