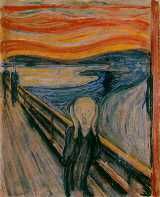 MHNN (Ann Arbor, MI)- Last week, MHNN published a portion of a therapy session  that Dr Pat M Santy, (PMS) and Santa Claus, who is suffering from depression. PMS  is the internationally known psychiatrist and author of the weekly Carnival Of The Insanities.
When Santa was asked what he believed the origins of his Christmas depression were, he was quite clear:
"I think it started with the Menorah. A few years ago, a nice Jewish kid wrote and asked me for a Menorah. As it turns out, Hannukah was celebrated at the same time as Christmas. His parents were Reformed Jews who weren't all to keen on anything Jewish, spiritual or that didn't recognize the marvelous martyrdom of the Palestinians. He figured he could count on me because his chance of getting a Menorah from his parents was zip. He was right, but I couldn't get involved."
Upon further investigation, it was revealed that the young man's father was a litigation attorney. Santa decided not to get involved for fear of dragging the elves into the conflict. The bearded man in the now ill fitting red suit (weight loss attributed to stress) has a discrimination case pending before the celestial courts.
…the politically correct brown shirts noted he was a bad example to children because he was white, overweight and insufficiently sensitive enough to gay members of the community
…PC and gay activists claim that the Claus family refuses to 'come out' for economic reasons. When asked how that were possible, given that Santa, Mrs Claus and the elves do not benefit economically from their enterprise, the activists noted that it didn't matter in the least. Like the Duke lacrosse players, the Clauses and elves ought to be held responsible for all racism throughout time, whether they are guilty or not.

The PC brown shirts and gay activists have also said they want to know why there aren't any black, Hispanic or openly gay elves in Santa's non unionized workshop…

…Santa's lawyers noted that there are no visible minorities in the Irish leprechaun community…
PMS: You seem particularly down today.
Santa: I am down. There are things about this time of the year I hate.
PMS: Like what?
Santa: Snow.
PMS: You hate snow?
Santa: I love snow. I hate that so many kids live in places where there is no snow for Christmas.
PMS: Why?
Santa:  Because Christmas isn't supposed to be a license to wear a Hawaiian shirt or short pants- unless you are from Hawaii. Christmas is about snow, wet pants, runny noses and snow balls. Is there anything that looks more stupid than lights on a palm tree?
PMS: Kids who were born in warm climates, well, it's not their fault.
Santa: I'm not blaming them. I'm blaming their parents. You're supposed to get a warm sweater and scarf on Christmas, not bikinis and shorts. Last year, one of the elves got me a tshirt with a sunny motif that read, "It's people like you that make people like me go on medication." I promised to wear the shirt as I flew over California.
PMS: What else bothers you?
Santa: The Arabs. This year, from Jeddah to Gaza huge billboards of me, the sled and the reindeer have been erected, with a bullseye over us and images of anti aircraft missiles firing at us.
PMS: That's awful!
Santa: We had our lawyers get in touch with the people who funded the billboards. They told us there was nothing anti Christian about their message.  They said they were making reference to those who believe that Santa, the sled and the reindeer were Zionists. They were very clear to note that the original Santa was a Muslim explorer, the first to discover Greenland. They told me that my real name was Sanaullah Khulayd.
PMS: Are you serious? What did you tell them?
Santa: I said, "That's nice.  Now take down the billboards or that NORAD program will do a lot more than just track my whereabouts this year." The billboards came down. Then I decided to make a further point.
PMS: What did you do?
Santa: I told them because they were so rude, I would not deliver Christmas presents to Palestinian Christian children this year and I would publicly blame that reality on the Hamas threat to fire rockets at me and my sled . They got all upset about that.  They said they would make sure that Hamas backed down. I also said I would fly under the protection of the IAF Hannukah Stealth Menorah Squadron.
PMS: How did they react?
Santa: CAIR threatened a lawsuit. I told them all my lawyers were Jewish and they all had relatives who were victims of terror.
PMS: We'll pick this up next week.
Santa: I know, my assignment is to read Carnival Of The Insanities. Can we talk about sex next week?
PMS: We can talk about anything you want.