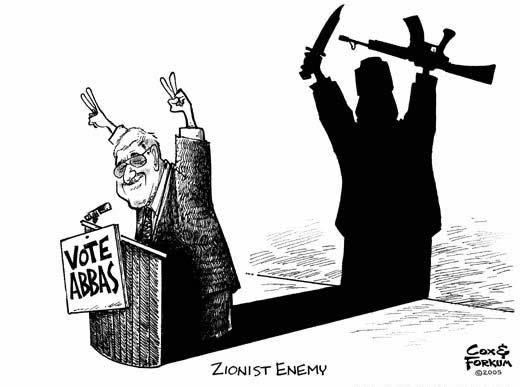 From the Jerusalem Post:
PA President Mahmoud Abbas on Thursday said that he does not rule out returning to the path of armed "resistance" against Israel and took pride in the fact that he had been the first to fire on Israel and that his organization had trained Hizbullah.

In an interview with the Jordanian daily al-Dustur, Abbas said that he was opposed to an armed struggle against Israel – for the time being.

"At this present juncture, I am opposed to armed struggle because we cannot succeed in it, but maybe in the future things will be different," he said.

"I had the honor of firing the first shot in 1965 and of being the one who taught resistance to many in the region and around the world; what it's like; when it is effective and when it isn't effective; its uses, and what serious, authentic and influential resistance is," Abbas said.

"It is common knowledge when and how resistance is detrimental and when it is well timed," he added. "We (Fatah) had the honor of leading the resistance and we taught resistance to everyone, including Hizbullah, who trained in our military camps."
How can a group determined to destroy Israel be a partner in the peace process?

A particular lack of attention is paid to the question as to why this group wants to obliterate Israel. People ignore the Nazi-style antisemitism which is the underpinning of Hamas' policies. Yet all one needs to do is take a look at the Hamas Charter, which considers "the Jews" responsible for all the evil and misfortune in the world. According to this Charter, Jews "stir revolutions", "destroy societies" and "colonize and exploit countries". "They stood behind World War I…, they also stood behind World War II…, they inspired the United Nations and the Security Council … in order to rule the world. … There was no war that broke out anywhere without their fingerprints on it." (3)

We should take every one of these assertions seriously. Anyone who accepts this monstrous image of Jews as the villains of the world must wish to kill them and must wish to see Israel – the "command centre" in antisemitic jargon – obliterated. For them a Palestinian state next to Israel can only be seen as a tool for achieving an Islamic state instead of Israel. Hamas can never be a peace partner as long as it holds on to this Charter…

The powerful effect of this ideology is underestimated in the West. Many either react as if hating Jews were a feature of the Oriental world, like hookahs or mosques. Or antisemitism among Muslims is glossed over as a kind of "anti-imperialism of fools", and rationalised as an alleged response to the Middle East conflict. From this stems the hope that, with the solution of the Palestine conflict, hatred of Jews will have vanished as well.

This hope, however, won't stand up to scrutiny. Anyone who is aware of the history of the Middle East will recognise that the escalation of the conflict has not been the cause of the antisemitic hatred. Rather, this antisemitic hatred, imported from Europe, has played a decisive role in the escalation…
Of course, not all Arabs were a part of the history Kunzel addresses.
Still, during the first decades of the 20th century, not a few Arabs considered these modernising effects of Zionist immigration in a favourable light. For example, the editor the Egypt's daily al-Ahram wrote in 1913: "The Zionists are necessary for this region. The money they will bring in, their intelligence and the diligence which is one of their characteristics will, without doubt, bring new life to the country." (10) During the 1920's, prominent leaders in Egypt believed "that the progress of Zionism might help to secure the development of a new Eastern civilisation," as Mr. Kisch who was at that time Chairman of the Palestine Zionist Executive noted in his diary after visiting Cairo in 1924. (11) In 1924, the modernising model of Kemal Atatürk had replaced the caliphate in Turkey and beginning in 1925, the Shah of Iran, Resa Khan, had embarked on the secularisation of his country…
And now, full circle and Mahmoud Abbas:
Hamas denies that Mahmud Abbas represents the will of the Palestinian people and has seen its position strengthened by the victory in the Gaza local elections at the end of January 2005. (15) It refuses to cease production of more Qassem rockets, let alone hand over its weapons. For the time being, it is not using those weapons, but only because in a counter-move Mahmud Abbas "has agreed to unfreeze Hamas funds held in a number of Palestinian banks." (16) Last but not least, it is receiving massive support from Iran and its puppet, Hizbullah. On January 30, 2005 Sheikh Hassan Nasrullah, head of Hizbullah, and his Hamas counterpart Khaled Mashal issued a joint declaration pledging coordination of their military efforts. As Mashal put it, "we are partners in the march against Israel, the common enemy. We hope that the same path which led to the liberation of southern Lebanon will lead to that of the whole of Palestine". (17) Hizbullah's involvement has since reached such a level "that even the PA leadership is sounding the alarm and begging the world to help it cut off those throwing oil on flames that it is trying to douse." (18)
From the Wall Street Journal on Abbas:
…His outright refusal to confront and disarm terrorists, in violation of the Road Map, hardly registers anymore in the Western media and where it does, it is usually excused and attributed to his relative political weakness. However, the media also give very little idea of the extent to which the Palestinian Authority continues to glorify terrorists…

…if Americans and Europeans are genuinely interested in promoting Palestinian-Israeli peace, it is time for them to take a realistic look at his record…

His outright refusal to confront and disarm terrorists, in violation of the Road Map, hardly registers anymore in the Western media and where it does, it is usually excused and attributed to his relative political weakness. However, the media also give very little idea of the extent to which the Palestinian Authority continues to glorify terrorists… Then there is the soccer tournament named in honor of the terrorist who murdered 30 people at a Passover celebration in Netanya, or the girls' high school named by the Palestinian Authority Ministry of Education after a female terrorist who murdered 36 Israeli civilians and an American nature photographer. (The school was recently renovated with money from USAID, channeled through the American Near East Refugee Aid.)

Examples could easily be multiplied. A poetry collection published by the Palestinian Authority Ministry of Culture, for instance, is named in honor of a suicide terrorist (dubbed "the Rose of Palestine" in one of the poems) who killed 21 at a restaurant in Haifa. (The collection was distributed this August as a special supplement in the daily Al-Ayyam. Most of Al-Ayyam's editors are appointed by Mr. Abbas.)…

The Palestinian Authority sometimes goes so far as to stamp out even the most symbolic gestures of coexistence with Israel. Consider last month's soccer match, organized by the Shimon Peres Center for Peace, in which Israeli and Palestinian soccer stars played together in a joint "Peace Team" against Barcelona. They played well, losing only 2-1 at Barcelona's famous Nou Camp stadium in front of 31,820 spectators, including many dignitaries. Yet on the Palestinian Authority's orders, the Palestinian Football Association announced that it would punish the Palestinian players for daring to participate in such a match…
More on Abbas, from Jihad Watch:
Abbas went on to praise late Hamas spiritual leader Ahmed Yassin, who was assassinated by Israel in March 2004.

He also used Quranic verses to claim Jews are corrupting the world.

"The sons of Israel are mentioned as those who are corrupting humanity on earth," Abbas said during a portion of his speech in which he criticized recent Israeli anti-terror raids in the northern West Bank.

Abbas anti-Semitic remarks and his call to arms against the Jewish state were not quoted in hundreds of English-language articles reporting on today's speech or by most major Israeli dailies, which featured pieces on their websites about the Fatah commemoration ceremonies.

A widely-circulated Associated Press article, titled "Abbas calls for respect at Fatah rally," states Abbas today called for rival factions to respect each other.

The AP quotes Abbas stating, "Shooting at your brother is forbidden," but the article stops short of quoting the rest of his sentence in which he recommends Palestinians use their weapons against Israel.
Finally, see Hot Wired For Hatred, to understand the psychological origins of the behaviors that are so prevalent in the Arab world.
However frightening this propaganda and its effects might be, we must confront the possibility that an even more hideous engine drives the terrorists' cruelty. Relative to the West, life in Arab countries has always been harsh. Corporal punishment of children is thoroughly embedded in the culture. No mainstream Islamic authority has yet spoken out against slapping children's faces, dragging them by the hair, or any of the other disciplinary approaches that shock Western onlookers.

Survival in such a culture necessitates some numbing. But this psychological component might be insignificant relative to the neurobiological effects of being beaten and tortured in childhood. It was Harvard researchers who first revealed that stress hormones released when children experience physical and sexual abuse actually impede development of that part of the brain responsible for empathy and conscience.

Brain scans of those who suffered through events common in the childhood of Palestinian children reveal an underdeveloped hippocampus and vermis. Among the behaviors associated with this sort of brain damage: impulsivity, sadism, and suicide. It is almost too frightening to consider that Israel today faces a population many of whom are hardwired for the sort of violence we have been witnessing.

More terrifying is the long-term prognosis for Palestinian society. Martin Teicher, a lead researcher in the Harvard study, reports that sadistic parents neurobiologically infect their children with the same trait: Society reaps what it sows in the way it nurtures its children. Whether it comes in the form of physical, emotional, or sexual trauma, or through exposure to warfare, famine, or pestilence, stress can set off a ripple of hormonal changes that permanently wire a child's brain to cope with a malevolent world. Through this chain of events, violence and abuse pass from generation to generation as well as from one society to the next.

Our stark conclusion is that we see the need to do much more to ensure that child abuse does not happen in the first place, because once the key brain alterations occur, there may be no going back. (Scientific American, March 2002)
For source material, see Shrinkwrapped's superb The Arab Mind series, archived at that link. The posts are a must read for any serious student of Middle East politics.