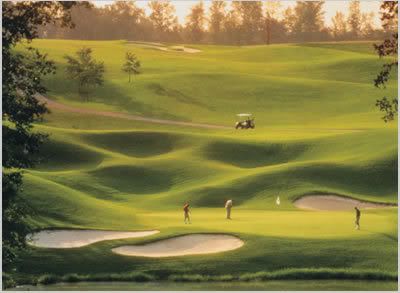 The following is not intended to offend the fans of tennis, basketball, hockey, football, NASCAR or baseball. It is rather, an attempt to put everything in it's proper perspective.
Was it about golf that inspires such fierce passion?
Have you ever wondered why golf is growing in popularity and why people who don't even play the game go to tournaments or watch the game on TV?
Have you ever wondered why golf courses have 18 holes?
The following truisms may shed some light.
Newspapers rarely have stories of golfers in jail.
Golfers do not kick dirt on or verbally assault officials or fans.
Professional golfers are paid in direct proportion to how well they play.
Golfers are not paid a per diem or assigned two seats on a charter flight when they travel from one tournament to another.
Golfers do not hold out for more money or demand new contracts because of another player's deal.
Professional golfers do not demand that the taxpayers pay for the courses on which they play.
When a golfer make a mistake, no one is there to cover for them or justify the error.
The PGA raises more money for charity than the NFL does in two.
You can watch the best golfers in the world in any tournament, all day long, for $25-$30.
Super bowl tickets can cost between $300- $1,000 or more.
Golf fans are free to bring their own refreshments. If you bring a soft drink or even bottled water into a tax payer funded ballpark, you have one of two options. Get rid of the soft drink or leave.
In golf, you cannot fail 70% of time and make $9 million dollars a year. Think about that the next time you consider the best hitters in baseball with a 300 batting average.
Golfers keep their clothes on when being interviewed.
You can hear birds chirping on a golf course, even during a tournament.
At a golf tournament, you don't have to worry about your kids hearing a steady stream of four letter words, foul language or worry someone will spill beer on you.
Tiger Woods can hit a golf ball over twice as far as Barry Bonds can hit a baseball.
Golf courses do not ruin neighborhoods.
One more thing. In 1858 a discussion was had by the membership committee at Saint Andrews, the Cathedral of Golf in Scotland. A senior member noted that it took exactly 18 shots to finish a fifth of scotch. A round of golf was finished when the scotch ran out.
Now you know.