Please join us for another Sanity Squad podcast this evening at 8:00 pm! Dr Sanity, Shrinkwrapped and ourselves will be discussing Geert Wilder's movie "Fitna" (see below) and the ongoing campaign against the Sadr militias in Basra.
And, if you haven't seen "Fitna" yet, take 15 minutes to watch it. It really shows nothing new (i.e., that readers of Sanity Squad blogs haven't heard about), but it shows it graphically and with very little comment. Watching it is an act of freedom and defiance against those forces that want nothing more than to destroy the very values upon which western civilization is based.
The podcast can accessed from the Sanity Squad BTR Homepage.
The call in number is is (646) 716-9116.
Doors open at 8:00 PM sharp.
If you haven't seen "Fitna" yet, take 15 minutes to watch it. It really shows nothing new (i.e., that readers of this blog haven't heard about), but it shows it graphically and with very little comment. Watching it is an act of freedom and defiance against those forces that want nothing more than to destroy the very values upon which western civilization is based.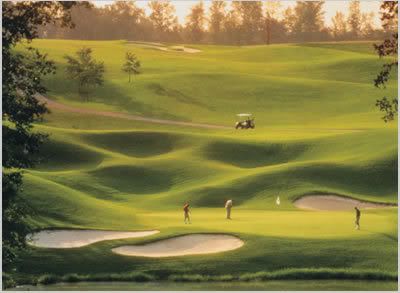 The following is not intended to offend the fans of tennis, basketball, hockey, football, NASCAR or baseball. It is rather, an attempt to put everything in it's proper perspective.
Was it about golf that inspires such fierce passion?
Have you ever wondered why golf is growing in popularity and why people who don't even play the game go to tournaments or watch the game on TV?
Have you ever wondered why golf courses have 18 holes?
The following truisms may shed some light.
Newspapers rarely have stories of golfers in jail.
Golfers do not kick dirt on or verbally assault officials or fans.
Professional golfers are paid in direct proportion to how well they play.
Golfers are not paid a per diem or assigned two seats on a charter flight when they travel from one tournament to another.
Golfers do not hold out for more money or demand new contracts because of another player's deal.
Professional golfers do not demand that the taxpayers pay for the courses on which they play.
When a golfer make a mistake, no one is there to cover for them or justify the error.
The PGA raises more money for charity than the NFL does in two.
You can watch the best golfers in the world in any tournament, all day long, for $25-$30.
Super bowl tickets can cost between $300- $1,000 or more.
Golf fans are free to bring their own refreshments. If you bring a soft drink or even bottled water into a tax payer funded ballpark, you have one of two options. Get rid of the soft drink or leave.
In golf, you cannot fail 70% of time and make $9 million dollars a year. Think about that the next time you consider the best hitters in baseball with a 300 batting average.
Golfers keep their clothes on when being interviewed.
You can hear birds chirping on a golf course, even during a tournament.
At a golf tournament, you don't have to worry about your kids hearing a steady stream of four letter words, foul language or worry someone will spill beer on you.
Tiger Woods can hit a golf ball over twice as far as Barry Bonds can hit a baseball.
Golf courses do not ruin neighborhoods.
One more thing. In 1858 a discussion was had by the membership committee at Saint Andrews, the Cathedral of Golf in Scotland. A senior member noted that it took exactly 18 shots to finish a fifth of scotch. A round of golf was finished when the scotch ran out.
Now you know.
One of the most accurate reflections of the state of health and fitness of a nation, culture or society is the state of health of it's educational system. The more education a nation, culture or society affords it's students, the more healthy that nation, culture or society. The more a nation, culture or society demands good education, the more advanced that society and culture are. Education is also a barometer of the state of freedom within a a nation, culture or society. The more freedom a citizen has to learn and explore, the freer that society is.
Education is not about ideologies or specific beliefs. Education is about the freedom to explore, be it of the armchair or field variety. In a healthy society, education exists along side ideology and specific beliefs. There are Catholic, Lutheran, Methodist and Jewish universities where religious beliefs and instruction go hand in hand with the experience of learning and the exploration of new ideas. This is no small distinction. Religious institutions have contributed mightily to the great body of knowledge that has benefited all mankind.
Conversely, in an unhealthy or undeveloped societies, education devolves and becomes becomes less about learning and exploration and more about indoctrination.
Dr Sanity, in The Evolution Of Education Into Indoctrination:
…Hegel, building on Kant, Rosseau and Fichte, would go on to write, "It must be further understood that all the worth which the human being possesses–all the spiritual reality, he possesses only through the State…"

If you can convince children that objective reality is an illusion; that A does not equal A; that black is white; and that good is bad; if you can make them accept that everything is subjective and relative; then you have successfully breathed new life into doctrines that by all objective measures and standards led to the death and misery of millions of people. Through the careful manipulation of language, everything can be distorted, without the messy need to resort to facts, logic, or reason.

For the children of postmodernism, what matters is not truth or falsity–only the effectiveness of the language used. Lies, distortions, ad hominem attacks; attempts to silence opposing views–all are strategies that are perfectly satisfactory if they achieve the desired effect–i.e., furthering the collectivist agenda. Ideas and reason make way for reification of feelings; and freedom is replaced by thought control and preservation of "self-esteem" at all costs.

The postmodern assault as it is used by the new totalitarians of the 21st century is a four-pronged attack to undermine

- Objective reality
- Reason and the rational debate of ideas
- Individual freedom and freedom of thought and speech
- Progress and capitalism

The strategies used are:

- The distortion of language and meaning to undermine the individual's perception of reality;
- The use of direct or threatened physical violence to suppress speech and individual freedom;
- Politically "correct" thought control and cultural relativism to undermine reason and rational debate;
- The promotion of environmental hysteria to undermine progress, industrialization and capitalism
Most of 'who we are,' as a nation, society and culture is determined by the kind of education we receive. If the education we receive serves freedom and equality, then we are a free people. If the education we receive undermines freedom and equality, then were are slaves, no more than chattel for those who would use and abuse us for their own needs and agendas.
Freedom cannot coexist with conditions that reinforce or tolerate oppressive and repressive behaviors, ideologies or beliefs. It is because we have allowed for and tolerated behaviors that are abhorrent, all in the name of pluralism, that we find ourselves in a 'clash of behaviors.'  What was once unacceptable in our society has now become tolerable because we have created conditions where oppression and repression are considered acceptable forms of political expression, equal to our own.
See also Dr Sanity, The Corruption Of The Curriculum:
Make no mistake about it, what many teachers today are doing is indoctrinating their students minds into an unquestioning obedience to the collective. This they cannot do unless they also can manage to corrupt even the hard sciences with their dogma.

There can be no area where a child is allowed to think freely and without the proper political perspective…

While our popular culture refrains sensitively from portraying Islamofascists as villains in movies out of political correctness (yet another aspect of socialism's quest for "social justice"); it does not hesitate to make businessmen evil and malignant oppressors of the innocent. Individualism, the pursuit of profit, and private property is always bad and everyone must bow to the will of the collective…

One very harmful result of this sorry educational situation is that there are few people–even among those who stalwartly defend the free market, who understand and appreciate the essential morality of capitalism. Certainly our children, taught by ideological purists like the ones above who are leftover from the 20th century debacle of socialist/communist tyranny–never even have a chance to rationally consider any ideas not approved by their aggressively collectivist teachers, so intent at quashing those aspects of human nature they don't like.

This is child abuse, pure and simple. It is indoctrination. It is the willful manipulation of young minds which cannot never be allowed to develop even the capability of thinking for themselves. And these perverts call it "social justice."
The snowball effect has led to the inevitable. There exists now have a class of people who share the same views and ideologies as those we find repulsive, going as far as to call for  renunciation of the very things that make us free. They openly offer vociferous support of those who call for our destruction.
Immigration is redefining the kind of society we live in, That is not necessarily a bad thing. This nation was built by immigrants and would not be what it is today if were not for the 'wretched refuse' that blessed these shores.
It is also true that the immigrants that came before are very different than the immigrants who are arriving today. This is very true of Europe and that truth is often played out on the nightly news. The mass influx or Arabs world immigrants has changed the Continent forever.
To understand the transformation of Europe, one has to understand the Arab world and especially how the Arab world defines education, a key indicator of societal and cultural values. (This is no small matter. Previous generations of immigrants came to Europe and the New World and left their own behind, understanding they would embrace the new and forgo the old. Today,  the Old Country is a phone call, an email and a website away. You don't have to leave the Old Country even if you leave the Old Country. Ever increasing cradle to grave benefits and not opportunities, are the incentive to relocate today. There are no reasons to embrace the values of a new culture).
For centuries, Arab world education has been at the bottom of the world educational barrel. Dysfunctional religious instruction is more easily and readily available than even the most basic of instruction.
The few Arab world colleges and universities that are not religious in nature are abysmal. There is an ever increasing 'brain drain' into Europe and the United States that will leave the Arab world playing 'catch up' for decades, if not centuries. Those who do remain in the region are caught in an educational environment that negate the history and culture of others and is obsessively focused on teaching the superiority of Islam, regardless of action or deed, instead of actually providing a real education. The Arab regimes have successfully manipulated yet another generation into oblivion.
Even prior to their arrival in the west, Arab world immigrants for the most part are really an entire class of people who have been deliberately short changed of a future because they have been indoctrinated and not educated. In place of a real education, designed to prepare an individual to be a productive and contributing member of society, this class of people are destined for poverty and failure, all by design. This of course, ensures a permanent, hate filled, lower class.
That isn't to say all Arab immigrants are destined to fail. Clearly, that is not the case. There are doctors and lawyers and scientists and economists and the like, but in truth, they are a very small minority- and one that many say is shrinking.
Just as real education provides for unlimited opportunity and reward, Arab societal and cultural education closes every door in it's proximity. The only real demands Arab societal and cultural education demand placed on students is permanent membership in the Fraternity of Hate. Instruction deliberately shuns modernity and advancement. Instead  students are taught to blame others and are inspired with ideals of regaining lost glory and superiority- by way of eliminating others. Real critical thinking is not applauded in the Arab World. Rather, it is feared.
There is an entire class of people who are being deliberately short changed of a future. In place of a real education, designed to prepare an individual to be a productive and contributing member of society, this class of people are destined for poverty and failure, all by design. This of course, ensures a permanent, hate filled, lower class.
Children are inculcated with the idea that God mandated hate will provide the 'wealth' that they have been deprived of- wealth stolen by the infidels, with their concerted conspiracy to keep Muslims from their rightful destiny. of course, these ideas are antithetical to the civilized values of hard work and equality.
The values that Arab immigrants to western shores must defend are the values of failure. It is no wonder the Arab immigrants are so enraged. To admit their values are failed is to negate everything they have been taught and the notion of their own superiority.
The Arab world goes to great length to deride and excoriate the Jews for being 'The Chosen People.' In fact, the well documented successes of the Jews as a group can be attributed to hard work, discipline and effort despite many obstacles they faced. All of that of course was preceded by the values Jews placed on education. It is the Arab world and not the Jews that demand to be recognized as 'Chosen,' simply by virtue of their existence. They believe they are exempt from the notion of equality, believing themselves to be superior.
It is the repudiation of real education that has been the 'mother's milk' of Arab failure and discontent. That is the same 'mother's milk' that has fed a generation of westerners and has bred a self loathing culture of discontent and hatred of all things Western, most especially the notion of equality. That they are equal to Christians, Jews, Buddhists and everyone else is a humiliation, as far as they are concerned.
Arab immigrants bring with them the dysfunction of the world they left behind- and they force that dysfunction on their children. The inability to succeed and participate as equals in the west only highlights their broken values. The stated desire and inclinations to commit acts of violence against anyone they please only highlights their failure and dysfunction- and these are values that are taught to their children, because these are the only educational values they know. They see the passing on of those values as education. We see them for what they are- child abuse. They are teaching their children to hate.
Shrinkwrapped, in The Arab mind, Part VI, describes the mechanics of the kind of child abuse found in the Arab world- and imported into the west.
There is a terrible psychic cost that accrues with child abuse. An abused child is a traumatized child. The traumatic situation, with its mix of terror, rage, passivity, pain, and confusion, is impossible for the child to fully grasp and incorporate.  The distance between the needed parent and the hated parent is impossible to bridge. The child dissociates during the traumatic experience and ultimately splits off part of the object…The Arab child, to preserve his safety and protect himself from further trauma, must accept the authority of the father and later father surrogates.  The alternative is dangerously destabilizing to the fragile internal mental constitution.  This predisposes the young person, as they grow up, to look for authority figures in whom to place their trust and thus engender a feeling of safety.  Imams, who represent the highest levels of authority in Arab culture, are then in unique positions to control and direct their followers.  Radical Imams, who profess extreme views with the certainty that inheres to extremism, use this dependency to ill effect. However, even those who do not fall into the orbit of the extremists have a great tendency to support and appeal to authority.  Freedom can be particularly frightening because it can unconsciously evoke the danger of rebellious thoughts and feelings which are inseparable from the traumatic response that they provoked during childhood."
Shrinkwrapped's series, The Arab Mind (archived here. Scroll down for earlier installments) is especially important, if for no other reason than he is making us aware of what is now influencing our society. We urge you to read the entire series.
The French playwright and philosopher Moliere once noted that 'The less were are like our ancestors, the less we deserve them.' If we want and value freedom and a free society, we will have to defend freedom- and that starts with real education, not just the politically correct kind.
Real freedom is both an art and science. Just as the limits of art may be tested and challenged, the science of freedom retains the truths and absolutes that are the building blocks of our society. That natural tension is fundamental to freedom.