"A man never stands as tall as when he kneels to help a child."
June 15, 2008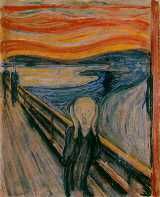 MHNN (Ann Arbor, MI)- Pat M Santy author of Carnival Of The Insanities (COTI) was invited to spend Father's Day at the SC&A Institute.
What follows are the notes she took as residents spoke of their fathers and the meaning of this day. Dr Santy was able to go unnoticed because she donned slippers, a ratty bathrobe and walked in counterclockwise circles for 19 hours, blending in.
"I want to thank the SC&A Institute for the opportunity to do this research 'up close and personal.' I have never felt so much at home."
"Father I cannot tell a lie. I did it with my little hatchet."- George Washington
"The fundamental defect with fathers is that they want their children to be a credit to them."- Bertrand Russell
"A man never stands as tall as when he kneels to help a child."- Anonymous
"I watched a small man with thick calluses on both hands work fifteen and sixteen hours a day. I saw him once literally bleed from the bottoms of his feet, a man who came here uneducated, alone, unable to speak the language, who taught me all I needed to know about faith and hard work by the simple eloquence of his example."- Mario Cuomo
"To be a successful father, there's one absolute rule: when you have a kid, don't look at it for the first two years."- Ernest Hemigway
"If the new American father feels bewildered and even defeated, let him take comfort from the fact that whatever he does in any fathering situation has a fifty percent chance of being right."- Bill Cosby
"My father died many years ago, and yet when something special happens to me, I talk to him secretly not really knowing whether he hears, but it makes me feel better to half believe it."- Josefowitz
"When a father gives to his son, both laugh; when a son gives to his father, both cry."- Unknown
By profession, I am a soldier and take pride in that fact. But I am prouder – infinitely prouder – to be a father. A soldier destroys in order to build; the father only builds, never destroys. The one has the potentiality of death; the other embodies creation and life. And while the hordes of death are mighty, the battalions of life are mightier still. It is my hope that my son, when I am gone, will remember me not from the battle field but in the home repeating with him our simple daily prayer, 'Our Father who art in Heaven.'- Douglas Macarthur
"It is easier for a father to have children than for children to have a real father."- Pope John XXII
"Small boys become big men through the influence of big men who care about small boys."- Anonymous
"I talk and talk and talk, and I haven't taught people in 50 years what my father taught by example in one week."- Mario Cuomo
"Fatherhood is pretending the present you love most is "soap-on-a-rope."- Bill Cosby
"That is the thankless position of the father in the family… the provider for all, and the enemy of all."- August Strindberg
"To a father growing old nothing is dearer than a daughter."- Euripedes
"When I was a boy of fourteen, my father was so ignorant I could hardly stand to have the old man around. But when I got to be twenty-one, I was astonished at how much the old man had learned in seven years._- Mark Twain
"I cannot think of any need in childhood as strong as the need for a father's protection."- Sigmund Freud
"Sometimes the poorest man leaves his children the richest inheritance."- Ruth Renkel
"One night a father overheard his son pray: Dear God, Make me the kind of man my Daddy is. Later that night, the Father prayed, Dear God, Make me the kind of man my son wants me to be."- Anonymous
"Who giveth this woman?" This woman. But she's not a woman. She's still a child. And she's leaving us. What's it going to be like to come home and not find her? Not to hear her voice calling, "Hi, Pops" as I come in? I suddenly realized what I was doing. I was giving up Kay. Something inside me began to hurt."- Stanley Banks
"Until you have a son of your own… you will never know the joy, the love beyond feeling that resonates in the heart of a father as he looks upon his son. You will never know the sense of honor that makes a man want to be more than he is and to pass something good and hopeful into the hands of his son. And you will never know the heartbreak of the fathers who are haunted by the personal demons that keep them from being the men they want their sons to be."- Kent Nerburn
"The worst misfortune that can happen to an ordinary man is to have an extraordinary father."- Austin O'Malley
"To her the name of father was another name for love."- Fanny Fern
For more love, wit and wisdom see Carnival Of The Insanities.