"There is no such thing as a 'disproportionate response' to calls for genocide."
December 29, 2008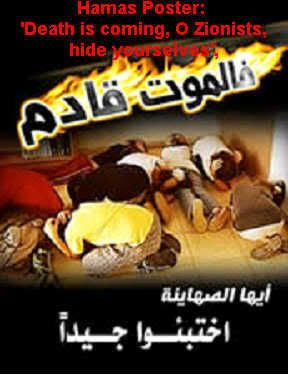 'Death is coming. O Zionists, hide yourselves!' (h/t Larwyn)
Let's be clear. This is a call to genocide.
While the UN and much of Europe wring their hands at the heavy Israeli response to rocket fire by the Palestinians into Israel, there is talk of 'disproportionate response.'
There is no such thing as a 'disproportionate response' to calls for genocide. All conflicts end with 'disproportionate response.'
The Israelis are entitled to defend themselves from those who openly or not so openly call for their annihilation.
Peace among nations is arrived at when the cost of war becomes overwhelming.
Racism, bigotry and hate are overcome when the cost of racism, bigotry and hate becomes too great for society to bear. As long as nations and peoples perceive the cost of war as acceptable, then we will have war.
When the cost of slaughtering Jews as 'business as usual' becomes to high for the Palestinians to bear, they will respond appropriately. As Abba Eban noted,
History teaches us that men and nations behave wisely once they have exhausted all other alternatives.
Israel has every right to defend herself every way she sees fit- and the world has no business chastising her for her actions. It isn't as if the rest of the world has a great track record in standing up for Jews. One doesn't have to go back that far to confirm that. As Jews were trying to leave Germany prior to the war, other European countries blocked their borders to increased immigration. The Swiss were kind enough to send those lucky enough to send those who arrived by train back to Germany, to catch other trains with destinations like Auschwitz, Bergen-Belsen, Dachau and scores of other lesser known 'work camps.'
Day in and day out, for decades, the Israelis and Jews are bombarded with vicious and vile hate from the Arab world. Day in and day out, Israel is promised destruction, violations of the most heinous kind and 'rivers of blood.' We are told that thousands of volunteers are ready to answer a religious call and bring mayhem, violence and death to the Israelis.
The Palestinians, Iranians and Saudis, all outraged at the fact that these Jews will defend themselves, have whipped themselves into a frenzy. They will not tolerate peace agreements that do not allow for the slaughter of Jews. They laughably declare the Israelis to be engaged in 'genocide' and Nazi behavior, even as they proudly declare their bigotry and racism and promise to 'finish what Hitler started.'
The truth is that if the Israelis really wanted to slaughter the Palestinians, they could. They have means to do just that, so either the Israelis are colossal failures at genocide or they have no intent to do so.
This isn't about political Israel as a nation state. This is about Jews and religious conflict. What we see in the Middle East today is the result of decades of dysfunctional and oppressive leaders who employ and pay for 'religious' authorities to manipulate a religion to suit their needs and to find religious justification for their oppression and repression.
Arab leaders and religious authorities issue threats against Jews and Jewish institutions inside and  outside the Middle East whenever Israel responds to violence from the Palestinians. There are never threats made against the millions of Christian Zionists or the even more millions Christian supporters of the State of Israel. There are never threats of violence against the the thousands of churches whose clergy parishioners support Israel and there are never threats of violence to outspoken gentiles who support Israel.
There are never threats against Christians or gentiles who support Zionism and Israel because the conflict isn't about Zionism or Israel. As far as the Palestinians and much of the Arab world is concerned, the Middle East conflict is about the Muslim right and obligation to kill Jews.That obligation is taught, broadcast and preached, day in and day out throughout the Arab world.

The Islamist threats to 'Zionists' are directed at Jews only. It matters little if those Jews are old people or children. There have been innumerable violent acts deliberately targeting children, in Israel and abroad. There have been acts of violence directed a Jewish Houses of Worship the world over. In Paris, Montreal, Marseilles and elsewhere, Jewish schools have been firebombed. Attacks against Jews have been recorded in virtually every western nation, preceded by some of the most vicious and vile expressions of anti semitism found anywhere.
Not even the dead are immune from Arab anti Semitism. All over Europe, Jewish cemeteries have been vandalized. On buses and trains all over Europe, Jews have been assaulted, beaten and stabbed. As a result, the Chief Rabbi of France issued an edict that men should not wear their traditional head covering- as a matter of safety.
In every single Arab country, including the Palestinian territories, Jewish shrines have been desecrated. When the Israelis left Gaza, there was an orgy of synagogue burnings and desecration of holy sites that were encouraged and applauded. For the Palestinians and much of the Arab world, krystallnacht is a festival that is never ending.
It is ironic that Hijab has become an expression of religious fidelity is demanded by many and at the same time, Jews who wear head coverings, another expression of religious fidelity to the same God, have become a bulls-eye for many of the same people who supposedly claim no issue with Jews, only Zionists.
Most people will say the animus against Jews is the result of the situation in the Middle East- and they would be right. Unless and until the Jews are eradicated, there will be no peace.
Arab author and expert on Hizbollah and Lebanese politics Amal Saad-Ghorayeb makes clear that Hizbollah sees the conflict with Israel as an existential one, having nothing to do with politics or borders.
Hizbollah leader Hassan Nasrallah ( of 'we have Israeli body parts fame') proudly declared that
"…if they [Jews] all gather in Israel, it will save us the trouble of going after them worldwide."
Hamas takes great pleasure in referring to Jews as the offspring of animals in media. Hamas religious preachers reinforce the message. These 'truths' are taught in Hamas schools. Even a Mickey Mouse clone was utilized to teach the message of violent jihad. A look at Palestinian 12th grade textbooks crystallizes and acknowledges the real 800 lb gorilla in the room. As far as the Palestinians are concerned, the 'State of Palestine' is exists in a world without Israel- and there will be no peace until Israel is eradicated. Holocaust denial, jihad and shahada ('martyrdom') are all now expressions of religious identity. If you do not hate Jews, you are a Muslim who is found lacking.
PA leader Mahmoud Abbas is cut of the same cloth. In a recent interview, he insisted that violence against Israel still a viable option, 'when the time is right.' He declared his pride in helping to train Hizbollah in terror and he fondly recalls the days he stood shoulder to shoulder with Yasser Arafat and the PLO (those 'good old days' included blowing up school buses with nursery and kindergarten school children, or taking school children hostage). Abbas is an educated man, a scholar with a PhD. His doctoral dissertation was titled, "The Secret Relationship Between Nazism and Zionism." In his dissertation, he discusses the 'fantasy' of the holocaust. He asserts that the few Jews who were killed were victims of a 'Nazi-Zionist' plot.
Palestinian and Arab clerics have justified attacks on civilians for decades, reasoning that all Israelis will be involved in defense of their state at one time or another. Old people, women and even babies are legitimate targets for that very reason.
The same logic applies to the Israeli response to the Palestinians.
The majority of Palestinians voted for the current Hamas regime. It is important to recall that the Hamas leadership made no secret of their genocidal ideologies and ambitions. Other Palestinians voted for the Palestinian Authority (PA), who share that ideology but insist on the camouflage of a pretend civility. It is a shame that so many insist on hiding gunmen and terrorists in their midst. In the time honored Arab tradition of hiding behind women and children, Palestinian factions of all political stripes hide terrorists, missile launch sites and weapons in civilian populations centers, including schools, hospitals and mosques.
As long as nations and peoples perceive the cost of war as acceptable, then we will have war. As long as the Palestinians and much of the Arab world see their hate, racism, bigotry and violence as acceptable forms of political and religious expression, the conflict will endure. When they demand better for themselves and their children the political landscape will change.
When nations that are that are led by or are under the influence of tyrants or dictators, attempt to justify those actions, we can rightly assume that justification is false. Tyrants and dictators do not make moral choices, because moral choices can only lead to the demise of the tyranny.
Anyone that comes to the defense of tyrannical regimes and their leaders, have themselves made a conscious choice to defend and stand by what is immoral.
The Palestinians wanted to make this about something other than politics. Now, they will bear the burden. The Israelis are under no obligation to tolerate calls for barbaric calls for genocide.
Dr Sanity noted in The Brilliance Of The Barbarians, that war means the rules of civilization are suspended. She quotes Wretchard:
Traditionally the solution has been to consider wartime a discontinuity, when civilization's rules are suspended. It becomes possible, for example, to lay waste to the Monte Cassino Abbey. Berlin was bombed without regard for its buildings, churches or people.
Dr Sanity is more concise. She speaks of the war on terror, but her words are equally applicable to the Israeli fight against those who call for her destruction and the slaughter of her people. She goes on to note:
I am confident that we will not lose our values; and that our overall moral heading can be recovered should we need to temporarily deviate from the course of the moral compass that guides us. Because, in order to combat and defeat this new barbarism, we must confront it and be willing to do whatever it takes to defeat it.

If we appease or ignore it, it will continue to menace everything we hold dear; and sooner or later, it will sink us–no matter how moral we are or how much restraint we demonstrate to their provocations. Morality and restraint will not win this conflict. We must be sure in our own hearts and minds of the endurance of our own values in order to do what is necessary…

The cost of this war will be more than all the lives lost; it will also be for the humanity and civilization we must temporarily abandon to win. I love to read fantasies as much as anyone, but in the real world, the good and virtuous whose cause is just do not always win.

When we are finally cornered and must allow our own barbarism to surface to combat theirs head to head, then we must be prepared to live with the consequences, including the agonizing guilt that will ensue–or everything we hold dear, everything we aspire to become, will forever perish from this earth.
The Israelis are fighting to prevent their annihilation at the hands of those who openly declare that as an objective.
We have said,
There is no such thing as a 'disproportionate response' to calls for genocide. All conflicts end with 'disproportionate response.'
The Germans and Japanese, who underwrote a war that was to take 50 million lives were bombed back into civilized behavior. Had those regimes been eliminated early on, 50 million lives would have been spared and genocide on a grand scale would have been avoided.
Lesson learned.
*UPDATED* See Dr Sanity's Maybe In The Future Things Will Be Different?
Just as alcoholics are addicted to ethanol, the Palestinians are addicted to their Jew-hatred and will not miss any opportunity to overindulge. Their intoxication has been continuous for over half a century now. If they did abstain–even for a moment–delirium engulfs them and they focus their obsessive lethal destructiveness on each other.

The psychologically inebriated members of Hamas actually believe that they can continue to mouth the same old pathetic and stale shibboleths that have sunk the region into a bottomless quagmire of sadistic violence and death.
In the broken and dysfunctional culture of the Palestinians, racism, hate and an agenda of genocide is restorative.
Portions of this post have been previously published.
See also the Doctrine of Proportionate Response. Excerpt:

It interesting to note that the hate directed at Israel or Jews is never referred to as 'disproportionate.' It is also true that the lopsided voting record against Israel by the United Nations Human Rights Commission (an assembly that includes some of the most oppressive and failed nation-states in the world) is never referred to as 'disproportionate' despite the admonition of three successive United Nations Secretaries- General…

None of the institutionalized hate and bigotry of the Arab world is 'disproportionate.' In fact, the Arabs will tell you that there are not enough calls to genocide and there is not enough hate and racism directed at Israel and Jews. In schools, media and from the pulpit, calls for genocide, bigotry and hate are considered 'proportionate' and reasonable…