In his election campaign, President Barack Obama made several statements about terrorism. He dissociated himself from George W. Bush's "holistic approach" (whatever this meant) and the rhetoric about the "global war on terrorism". He promised a more substantial "security architecture". Head of this new architecture was the unfortunate Janet Napolitano, a former governor of Arizona, who went on record saying that the system had worked well after the barely failed attempt to bomb a plane over Detroit on Christmas Day.

Obama also promised to work closely with America's allies, to pay greater attention to civil rights and the constitution, to close Guantanamo and to deal with detainees attentive to due process. And he charged the Bush administration with failing adequately to confront nuclear terrorism.

Two days after his Inauguration, two presidential orders were signed, banning harsh interrogation and ordering Guantanamo Bay to be closed within a year. The official rhetoric during Obama's first year certainly changed: the inflammatory term "terrorism" was dropped and replaced by "man-caused disaster" (no credit was given to woman or child suicide bombers) and Islamism was no longer mentioned at all.

Looking back on Obama's first year and his handling of "man-caused disasters", I feel less surprised and shocked than some of those who have also followed these issues for a fairly long time. Obama's experience in Chicago had not been in this field, nor had I been greatly impressed by the handling of former presidents (and their advisers — always with some exceptions). Under Clinton and Bush, the main role in combating terrorism had been allocated to the military, but it was not really prepared for this task either by training or by the specific knowledge needed for this assignment. I had doubts about the continuation of the Afghan war after 2002, not because it was immoral or illegal but because victory in Afghanistan seemed out of reach. It involved an investment in manpower, other resources and political will that did not exist in the US and was almost wholly absent in Europe.
This image has been posted with express written permission.
This cartoon was originally published at Town Hall.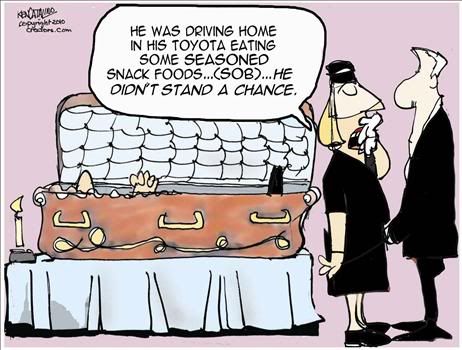 This image has been posted with express written permission.
This cartoon was originally published at Town Hall.